About our wines.
The philosophy of Celler Gurgu is built on the traditions of our ancestors, as we relay an essence that we feel proud to maintain and to transfer to our times. The human nature, the work with the varieties of our environment, and watching the fruit grow where the efforts of previous generations already grew in the shape of grapes, fills us with joy and motivates us to continue with this task full of feelings, family and history day after day.
The production of our winery is limited to the grapes that our grapevines provide. For this reason, each vintage is very special and unique and we have a limited version. However, our production is of around 6,000 bottles, distributed throughout our closest environment. It is a zero-kilometer wine.
To produce wine, the winery mainly works with the native variety of Monastrell grape, followed by the Cabernet Sauvignon and Syrah varieties. For the next vintages, we are very excited to incorporate the ancestral Giró variety into the area..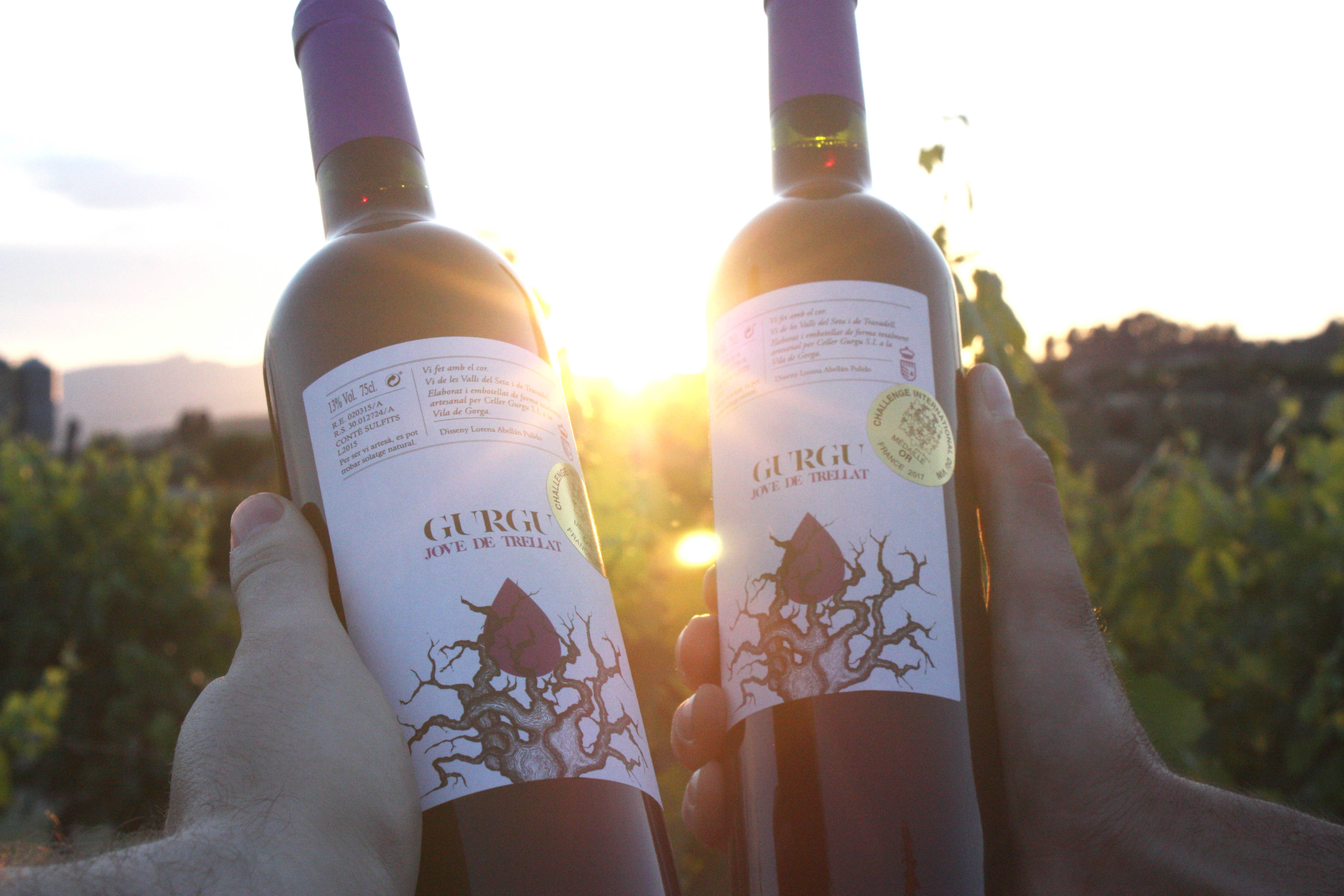 WINE DONE WITH THE HEART
UNIQUE AND RURAL WINE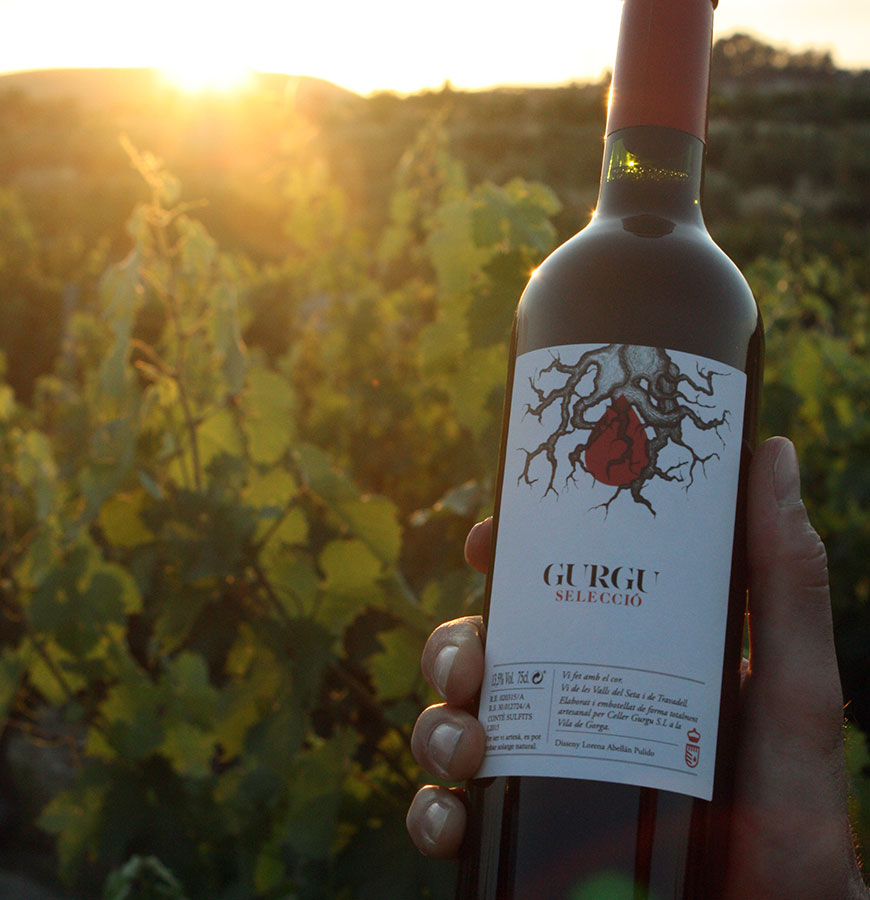 Gurgu Selecció
Year after year, a small selection of grapes from the Cabernet Sauvignon, Monastrell and Syrah varieties end up in barrels to mature during 10-15 months, producing a wine with body and character and with an outstanding taste and tannic, at the correct point of ripeness. "Gurgu Selecció" is an aged red wine with a very limited production, which comes from small plots located in the "Seta" and "Travadell" valleys. An endeavour to value and honour a tradition in one of the most prestigious winegrowing regions, tradition the phylloxera almost brought to disappearance at the beginning of the 20th century.
Grapes:
Made with Cabernet (60%), Monastrell (20%), Syrah (20%). Aged in French and American oak barrels for 15 months.
Pairing:
Bush meat, stews, red meat, cold meat, "gazpacho manchego", cured cheese, "olla", "pericana".
Bouquet, color and taste:
Candied fruit, sweet oak and toffee, pepper and clove.
A red wine, ripe cherry color, with some sparks of red tile.
It is tasty and with tannins, structured, complex, long and expressive.
Serving Temperature:
16º C to 14º C
Cork:
Natural cork from the Espadán Mountains.
Alcoholic degrees:
13.5º (depending on vintage)
Type of breeding:
Aged in barrels.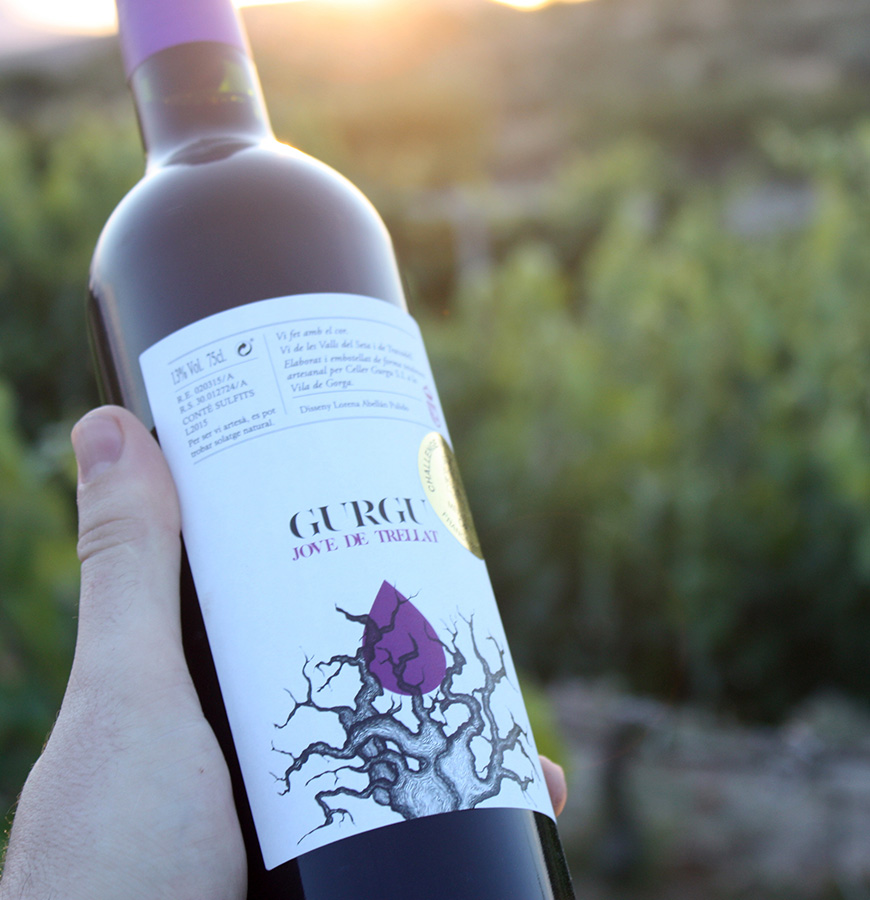 Gurgu Jove de Trellat
Gurgu Jove de Trellat" is the result of a courageous project of small plots which have been well-driven. It has a relatively typical blend of the area, in which the Monastrell has the support of other varieties, such as Syrah and Cabernet, building a wine that reflects the essence of Alicante's mountain wines. An artisan wine that will not let you down. Elaborated with three balanced varieties of grape, and matured in barrels between 4 and 6 months, depending on the variety and year. This wine has been awarded with various recognitions and will bring a world of hues to your palate.
Grapes:
Made with Monastrell (60%), Cabernet (20%), Syrah (20%). Aged in French and American oak barrels for 4/6 months.
Pairing:
Pasta, rice, mushrooms, in an appetizer, "bajoques farcides", wheat, baked rice, "minxos", fresh cheeses, foie, soft meats, etc.
Bouquet, colors and tasting:
Currants, strawberries, blackberries, balsamic that blend in with the nuances of vanilla.
Red wine, cherry-colored, with red and violet brushstrokes.
In the mouth, the nerve is appraised, but it is kind, broad and easy to drink.
Serving temperature:
14 to 16 ºC
Cork:
Natural cork from "Espadán" Mountains.
Alcoholic degrees:
13º / 13.5º (depending on the vintage).
Type of breeding:
Deposit / Barrel
Avantpassats
Since Gurgu was born, it reflects our way of being and living.
Its philosophy is forged by our ancestors, who learnt from the land which accompanied them in the past and which accompanies us today.
Gurgu has always tried to join three key elements: our ancestors' legacy, their knowledge; the fruit of our land and the great respect for the environment.
Gurgu has recovered the "Giró" variety, which can be arbitrarily found in the old edges of our ancient land, resisting death and being thus, part of our legacy.
"Giró" variety has been worked with the utmost respect for the environment in which it has been cultivated. Ending thus, its life cycle where it started, in our land: in our clay jars. Clay jars over hundred years of history.
These clay jars have been reused after had been used to store the most precious food for our grandparents and great-parents, such as oil, cereals, meat and, in our case, wine.
With this wine, Gurgu wants to pay tribute to our grandparents and ancestors, from whom we have learnt that our love for the land offers us our greatest possession, "Avantpassats" wine.
Grapes:
Made with 'Giró' 100%. Aged in clay jugs of more than one hundred years of history for 12 months.
Pairing:
"Borra", Tomatoes with poor cod roasted, fried corn, "abisinios", hummus, pasta, rice, guacamole….
Bouquet, colors and tasting:
Elegant candied fruit above organic background from the clay jar
Attractive cherry medium intense colour.
Surprising fresh sourness, candied pumpkin ("arrop i tallaetes") flavour and clay touches.
Temperature to serve:
12º C to 14º C
1 bottle volume:
1.500 ml / 750 ml
Type of breeding:
Deposit / Barrel